Är ni redo för en värdefull BÄST I TEST lista? Igår, för elfte året i rad, var det dags att kora skönhetsprodukter från föregående år. Denna gång i Swedish Beauty Awards – Sveriges största produkt-tävling inom skönhet och kosmetik. Jag gjorde ett liknande inlägg i Februari men då var det efter Daisy Beauty Awards – Svenska Beauty Bloggares pris [Läs om DB vinnarna här].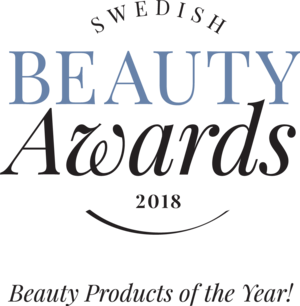 SBA är en ännu större tillställningen som arrangeras varje år i april utav KoHF – Kosmetik- och hygienföretagen. Här samlas branschfolk från hela skönhetsbranschen för att fira nomineringar och vinnare av det senaste årets produkter. Det är en stor bransch! Visste ni att skönhetsbranschen omsätter mer än 17 miljarder kronor bara i Sverige!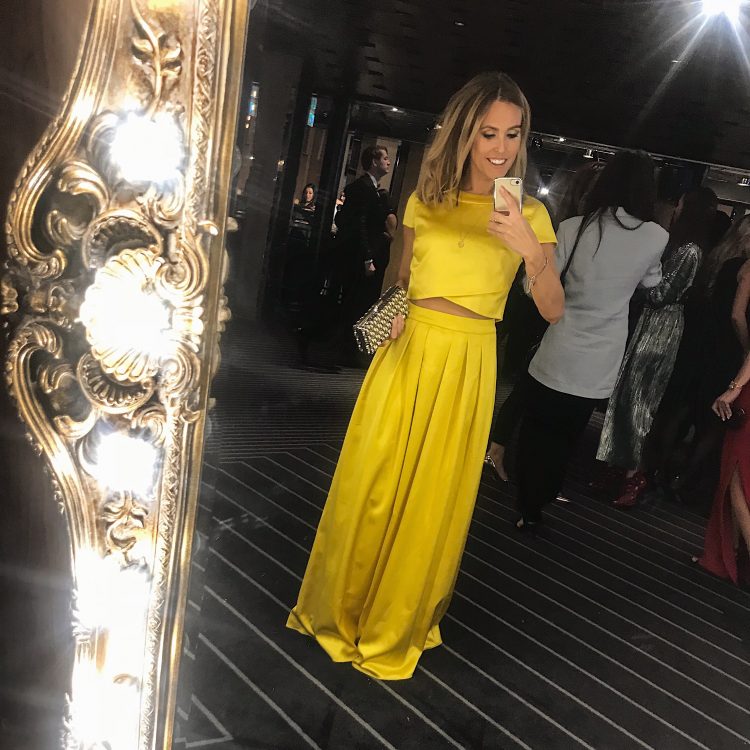 Min outfit för kvällen! Ville inte ta av mig klänningen, snyggaste setet jag någonsin burit!  The one and only, By Malina! Du hittar outfiten här-> Zita Topp Lemon [klick]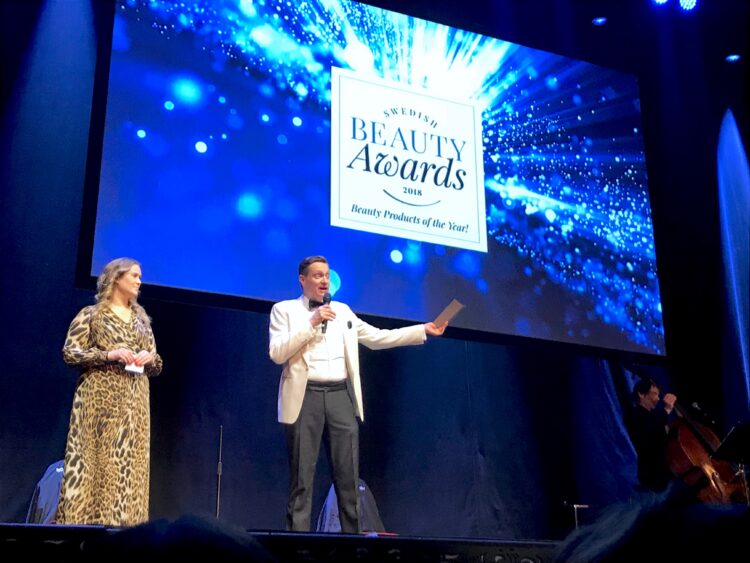 En mycket fint arrangerad gala! Så bra uppstyrt av alla inblandade, tack för en jättefin kväll!
Vinnarna – Swedish Beauty Awards 2018
Vinnarna markerade med fetstil och länkar!
          
Årets Hudvård (herr)
IDUN Minerals – Moisturizing day cream
FOREO – IRIS Black
PHformula – POINT multi protect
Peter Thomas Roth – Water Drench Cloud Creme [klick] På min önskelista!
---

Årets Groomingprodukt (herr)
Nõberu of Sweden – After Shave Balm – Amalfi
American Crew – Beard Serum [klick]
RAW Naturals Brewing Co. – Storm Proof Beard Balm
Waterclouds – The Dude Shave – Shave Cream
---

Årets Herrdoft under 500kr 
Coach – Coach MAN Vinnaren i mina ögon, älskar och skrev om den här -> Bästa herrparfymen på länge! 
David Beckham – Respect [klick]
The Body Shop – Elixirs of Nature Widdringtonia
Karl Lagerfeld – Les Parfums Matières – Bois de vétiver Eau de Toilette
---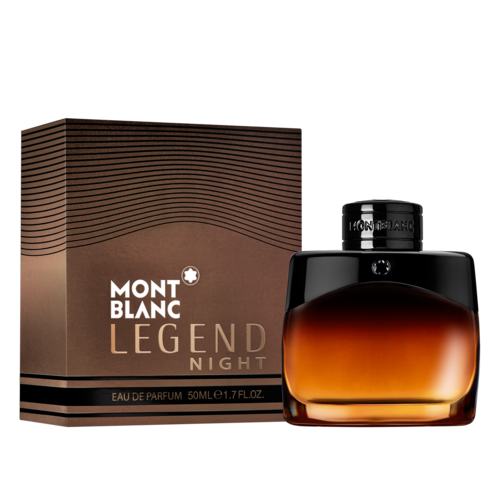 Årets Herrdoft över 500kr 
HUGO BOSS – BOSS The Scent Intense
MontBlanc – Legend Night [klick]
Dolce & Gabbana – Light Blue Eau Intense Pour Homme
Calvin Klein – OBSESSED
---

Årets Hårkit Schampo/balsam (Frisör)
Kérastase – Aura Botanica Bain Micellaire Shampoo & Soin Fondamental Conditioner [klick]
Alterna – Caviar     Infinite Color Hold Shampoo & Conditioner
Joico – BLONDE LIFE Shampoo & Conditioner
Evo – Mane Tamer Smoothing Shampoo & Conditioner
---

Årets Hårkit Schampo/balsam (Konsument)
Björn Axén – Organic Moisturizing Gentle Shampoo & Organic Moisturizing Conditioner
L´Oréal Paris – Botanicals Safflower Rich Infusion
Antonio Axu hair Couture – Cool Purple Silver Shampoo & Conditioner
The Body Shop – Fuji Green Tea™ Refreshingly Purifying Cleansing Hair Scrub & Hydrating Conditioner [klick]
---

Årets Hårvård (Frisör)
Wella Professionals – WELLAPLEX No3 Hair Stabilizer
Noir Stockholm – Essential Leave-In Conditioner
R+Co – HIGH DIVE Moisture + Shine Creme [klick] Älskar detta underbara märke!!
Davines – Circle Chronicles The Quick Fix Circle
---

Årets Hårvård (Konsument)
L´Oréal Paris – Botanicals Coriander Strength Cure
Yves Rocher – Repair Sleeping Care
Noughty – Leave in conditioner
Charles Worthington – Ultra Violet Shampoo [klick] Prisvärd!
---

Årets Stylingprodukt (Frisör)
Maria Nila – Minerals: Gabbro
Goldwell – Kerasilk Style Smoothing Sleek Spray
Noir Stockholm – Marvelous Blowout Cream [klick] Jag måste testa!
Oribe – Straight Away- Smooting Blowout Cream
---

Årets Stylingprodukt (Konsument)
Björn Axén – Dry Shampoo Deep Brown [klick] Jag måste testa!
Björn Axén – Root Concealer Intense Black
Batiste – Rose Gold Dry Shampoo
SACHAJUAN – SACHAJUAN Matt Wax
---

Årets Stylingverktyg
Björn Axén Tools – 3D Styler
Ghd – Ghd contour [klick] Så bra verkligen!! Använder väääldigt ofta! Skrev om den här-> Nyfärgad och kortklippt!
Hot TOOLS – Curlbar 25 el 32 mm
Evo – Spike
---

Årets Ansiktsbas under 250kr
Max Factor – Healthy Skin Harmony Foundation
Maybelline – Instant Eraser Conceler
KICKS Beauty – Kicks Skin enhancer
LUMENE  – Nordic Nude Natural Glow Fluid Foundation [klick]
---

Årets Ansiktsbas över 250kr
Shiseido – Synchro Skin Glow Foundation
SENSAI – Flawless Satin Foundation Spf 20 [klick] Herregud, fortfarande inte testat! På önskelistan!
Sisley – Instant Glow Primer
NIOD – Photography Fluid Tan, Opacity 8%
---

Årets Damdoft under 500kr
Replay – Signature for Her EdP
Elizabeth Arden – White Tea [klick]
The Body Shop – Elixirs of Nature Bohwanti
Karl Lagerfeld – Fleur de pêcher EdP
---

Årets Damdoft över 500kr
Gucci – Gucci Bloom EdP
Elie Saab – Girl of Now EdP
Tiffany & Co. – Tiffany & Co. EdP [klick]
Coach – Coach EdP
---

Årets Hygienprodukt
Maria Nila – Soaps: Ginger, Breeze, Meadow, Bouquet
Björk & Berries – White Forest Exfoliating Hand Wash [klick]
L´Occitane – Shea Shower Oil
Yves Rocher – Concentrated Shower Gel
---

Årets Kroppsvård under 200kr
La Roche-Posay – Lipikar Stick AP+ [klick] På önskelistan!
Eos – Vanilla Orchid Hand Lotion
Cetaphil – Softening Cream
Barnängen – Founded in Stockholm    All Over Rescue Balm
---

Årets Kroppsvård över 200kr
Elemis – Life Elixirs Calm Bath & Shower Elixir
Codage – Exfoliating Balm [klick] Bästa jag någonsin testat!
The Body Shop – Spa of the World™ Ethiopian Green Coffee Cream
Medik8 – Hydr8 B5 Hand Cream SPF 25
---

Årets Läpprodukt
Filorga  – Nutri-Filler Lips [klick]
YSL – Volupté Tint-in-Balm
Max Factor – Honey Lacquer Lipstick
BareMinerals – Gen Nude Matte Liquid Lipcolor
---

Årets Mascara
Idun Minerals – Magna volym mascara [klick]
Paris Berlin – Volumizing & Lengthening Mascara – Cat Lash Design
L´Oréal Paris – Paradise Extatic Inte för att vara partisk men det här är en utav de bästa mascarorna jag testat! Skrev om den här -> L'Oréal släpper dröm-mascara
By Terry – Lash-Expert Twist Brush
---

Årets Nagelprodukt
& Other Stories – Nail Polish Remover
Depend – Miljöanpassad Nagellackremover [klick] 
CND – VINYLUX Weekly Top Coat
Essie – Treat Love & Color
---

Årets Ögonmakeup
Nouba – Hidden Black Duo Eyeshadow
By Terry – Stylo Blackstar
Anastasia Beverly Hills – Subculture Eyeshadow Palette [klick] 
Linda Hallberg – Crayons Hejade på Linda, för dessa är magiska. Skrev om dom här-> Mood Crayons kit
---

Årets Ansiktsvård under 200kr
SerumMASQ+ – After Sun [klick]
Garnier – Micellar water in oil
NUXE – Crème Fraîche Cream 30 ml
Collistar – Molecular Collagen Spray
---

Årets Ansiktsvård 200-400kr
Shiseido – IBUKI Smart Filtering Smoother [klick] Instagramfilter på burk enligt nomineringen! Läs min recension här: Tips på en bra primer som ger en slät och matt yta
Shiseido – WASO Clear Mega Hydrating Cream
PIXI – Double Cleanse
Clarins – SOS Comfort Nourishing Balm Mask
---

Årets Ansiktsvård 400-700kr
FILORGA – NCTF-Essence
Lancôme – Visionnaire Crescendo
M Picaut – Swedish Skincare Hydra Lagoon Overnight Mask
Dermalogica – PreCleanse Balm [klick]
---

Årets Ansiktsvård över 700kr
Bioeffect – Egf Eye Mask Treatment
PHformula – SOS eye cream
La Prairie – Skin Caviar Absolute Filler
Skinbetter science – AlphaRet™ overnight cream FACE [klick]
---

Årets Serum under 600kr
Babor – Perfect Glow
Comfort Zone – Remedy Soothing Fortifying Serum [klick]
Eau Thermale Avène – Hydrance INTENSE Serum 30 ml
NIOD – Multi Molecular Hyaluronic Complex 30 ML
---

Årets Serum över 600kr
Filorga- NCTF-Intensive Serum
Verso Skincare – Hydration Serum [klick] Eh! Den här har jag missat. Högst upp på önskelistan!
Dr Dennis Gross – Ferulic + Retinol Triple Correction Eye Serum
Transderma – Transderma A
---

Årets Solprodukt
NIVEA – Nivea sun Protect & Moisture Anti-Stains Kids Roll-On SPF 30 [klick]
Dr Dennis Gross Skincare – Alpha Beta® Glow Pad
ACO – Sun Face Mattifying Fluid SPF 50+
La Roche-Posay – Anthelios Kids Wet Skin lotion SPF 50+
---

Årets Svenska produkt
Noir Stockholm – Marvelous Blowout Cream
Verso Skincare – Antioxidant Booster
M Picaut Swedish Skincare – Hydra lagoon Overnight Mask [klick] Välförtjänt, väldigt bra produkt!  
Antonio Axu Hair Couture – Shimmering Oil Luminous Gold